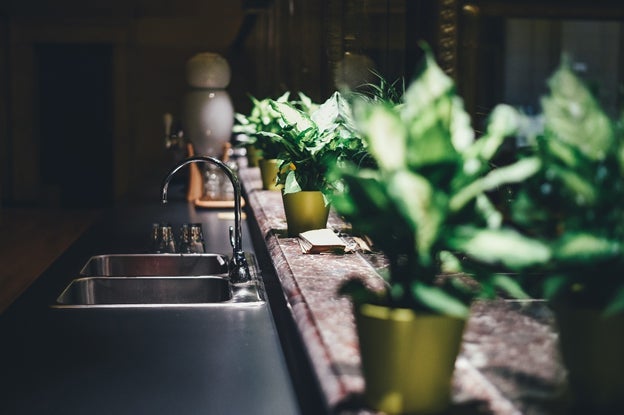 Interior design is changing. Since its inception, the field of interior design has focused on the impact of visual elements. Over the last few decades, shows on HGTV and designers like Isle Crawford have shifted the focus to a more multi-sensory experience. If you're looking bring contemporary design into your kitchen, you can start with these principles:

Incorporate a Variety of Materials
One of the hallmarks of contemporary design is the juxtaposition of contrasting materials. In the kitchen, the two largest surfaces belong to your cabinets and your countertops. Try pairing 
rustic kitchen cabinets
 with a modern countertop to create contrast and increase functionality. Wood cabinets pair well with the following materials: 
Granite:

Granite countertops are near and dear to the hearts of contemporary designers. Granite is gorgeous, and it's available in a wide variety of colors and patterns. It can also be used as a prep surface, but it requires yearly sealing.

Quartz:

Manufactured quartz is resistant to staining, heat, and acidity. It comes in a wide variety of colors and patterns, and it requires far less maintenance than granite, soapstone, and marble.

Marble:

Marble creates a high-end look, but it's comes with a sizable price tag. This natural material is heat resistant, but it requires regular sealing to prevent stains.

Concrete:

Concrete is available in a stunning array of variety of colors and textures. It's heat resistant, stain resistant, and far cheaper than natural stone.
Clean Up Your Cabinets
Clean lines and sparse furnishings gained popularity during mid-1900s, but contemporary designers continue to use these themes today. To achieve a contemporary feel in your kitchen, consider taking your 
cabinets all the way up to the ceiling
. Taller cabinets provide additional storage space, increase the value of your home, and look quite modern. If you don't want to rip out the cabinets you already have, consider building smaller, glass-paneled cabinets above your current cabinets.
Keep Furniture Simple
Minimalism is another tenet of modern design that has persisted into the 21st century. You can create a sparse, open look in your kitchen by choosing furniture with minimal ornamentation and maximum usability. Modern furniture is generally simple and raised off the floor. Individual pieces should incorporate a variety of materials, including wood, leather, teak, linen, plywood, plastic, and polished linen. These pieces should also contrast and complement the materials you chose for your cabinets and countertops.
Final Considerations
If you followed our advice your kitchen should incorporate a mix of wood, granite, and stainless steel. These materials will contrast one another to create a contemporary atmosphere. When it comes to choosing colors, consider for an off-white wall. Light walls create a feeling of openness within the room, while bright colors accent key parts of the room. After picking your primary design elements, incorporate some personal decorations and potted plants into the picture.
---
Thanks to our guest author 
Matt Lawler
,
a lifestyle blogger in Arizona where he attended Arizona State University. Whenever he can step away from the computer, Matt enjoys looking for 
things to do in Phoenix
 such as playing sports, traveling and exploring the great outdoors