North Vancouver's The Prescott is a perfect fit for locals who want to stay in the area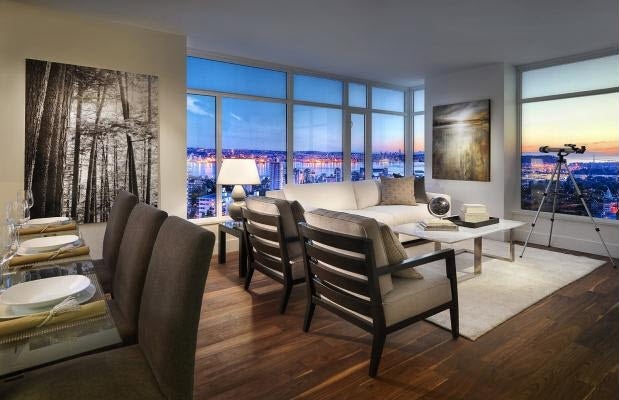 Use this link to see the Active Listings in The Prescott
The Prescott
Project size: 84 homes (50 per cent sold)
Residence size: Junior one bedroom; 1 bedroom; 2 bedrooms; 2 bedrooms + den; 457 — 1,181 sq. ft
Prices: $248,900 — $875,900 (spacious two-bedroom units with views of Lions Gate and Gulf Islands starting from $567,900)
Developer: Wesgroup
Architect: Walter Francl Architecture
Landscape Architect: PWL Partnership
Interior Design: InSight Design Group
Sales Centre: #101 — 1133 Lonsdale Ave., North Vancouver
Hours: noon — 5 p.m. weekdays; noon — 5 p.m. weekends
Financing: Special financing program reduces monthly payments to approx. $1,900 per month for a two-bedroom suite with 2.39-per-cent financing for two years (ends March 31)
Website: www.theprescott.ca
Occupancy: Early 2014
With the high cost of housing, many young people in Metro Vancouver can't consider buying a home in the neighbourhoods where they grew up — but the Nanavaty family in North Vancouver has found a solution.
Preparing to downsize from their single-family home, Feroze and Kamal Nanavaty not only purchased a suite for themselves in The Prescott, Wesgroup's mixed-use project under construction at 13th and Lonsdale in North Vancouver, they also helped their daughter Sandra buy a home there.
"I'm really, really excited about owning my first home," says Sandra, who grew up on the North Shore and currently lives with her parents. "I'm really close with my parents, so it makes it nice that we're in the same building."
She chose The Prescott because it offered a home she could afford without having to leave the area. Another plus is the layout of her 457-square-foot junior bachelor suite: it has a bedroom space that can be closed off with sliding doors "so it's not like I'll have my bedroom right in my kitchen."
Her parents will be living on a higher floor in a larger suite with two bedrooms, two bathrooms and a den. Kamal, Sandra's mother, has lived on the North Shore for 25 years and says she was drawn to The Prescott because it is a 15-storey, mixed-use highrise with only 84 units, and because she likes architect Walter Francl.
"He's a highly regarded architect," she says. "I work for the City of North Vancouver, so I've seen the plans and I like the layout."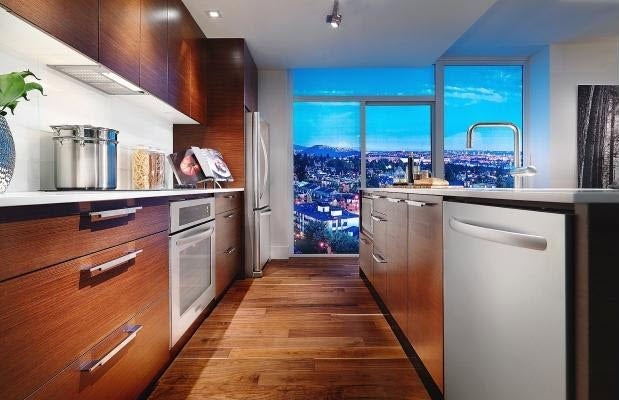 She also likes the size of the apartment — it's 996 square feet with a 193-square-foot deck — and the location. City Hall and the stunning new public library are a block away, as is Lions Gate Hospital. Safeway is across the street. And because The Prescott will sit on the crest of the hill, with unobstructed views stretching from Mount Baker to the Gulf Islands and North Shore mountains.
Among the Prescott buyers are two other local families who have also bought multiple units. The street-level commercial space will be the new headquarters of the North Shore Credit Union, which has been active in the community for nearly 70 years.
Wesgroup, the project developer, is a family business that started on the North Shore 50 years ago as a small builder.
The Prescott was named for North Vancouver pioneer and sawmill owner Sewell Prescott Moody.
As project marketer Vic Jang explains: "This was our first foray into the mixed use where the residential became a key part of it, so we wanted to make sure we weren't going to go with a trivial name" while also acknowledging the history and community roots of Wesgroup, the city and the North Shore Credit Union.
Located on the southeast corner of the city's central intersection, The Prescott is designed to be a community landmark. The challenge was to combine residential and commercial components so "everyone feels like they have their unique piece and at the same time collectively it reads as something really distinct," Jang says.
The base features a dramatic corner entry and plaza leading to a three-storey atrium and public gathering space, as well as commercial space. Above it, the residential tower will sit about 100 feet back from the street. Six of the seven units on each floor will have a water view — the worst view in the house is snowcapped mountains, laughs Jang. "Everything was geared toward view exposure and making someone have a special home. It's a big change to come out of a home for an empty nester and say, 'Am I really going to sacrifice space for just normal? (At The Prescott) I'm going to get a view, I'm going to get sun.' "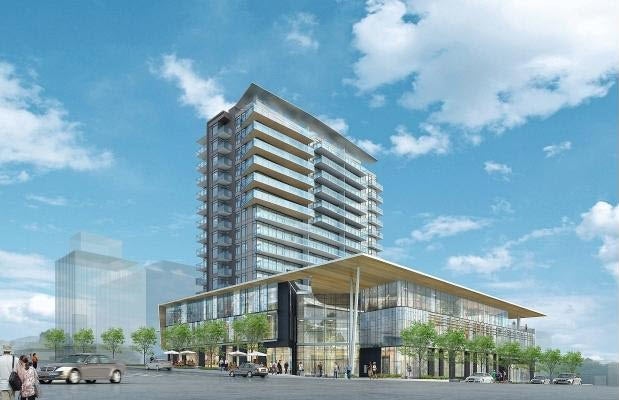 Every home has a deck, most at least 100 square feet or larger. With most suites facing west or south, the decks will also act as solar shading elements to help mitigate heat gain in summer, along with Low-E windows.
The building will have the highest residential energy standard in the city. Heating will be a high-efficiency hydronic system and — as is unusual for a display suite — the radiators are included in the living room vignette, along with windows that open. The view through those windows is part of the usual sexier elements, such as composite wenge wood kitchen cabinets and composite stone counters with glass backsplash, stainless steel KitchenAid Architect series appliances, hardwood floors and bathroom countertops of cross-cut marble.
Article by Felicity Stone featured in the 
Vancouver Sun
Chris Frederickson | Sutton Group West Coast Realty | 604.306.1062 | 
chris@chrisfrederickson.ca