BY JEFF LEE, 
VANCOUVER SUN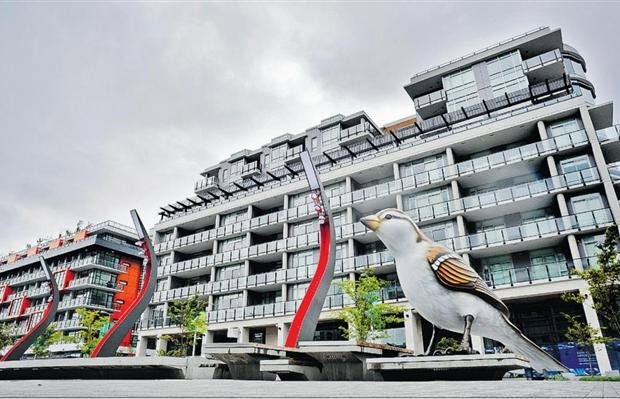 Photograph by: Les Bazso, PNG Files, Vancouver Sun
Vancouver's troubled Olympic village could still wind up costing taxpayers as much as $100 million in unrecovered debt despite herculean efforts to sell the project's remaining units, Coun. Geoff Meggs said Tuesday.
His pronouncement came after city manager Penny Ballem reported to council that the city still has outstanding loans of $446 million, even though it has sold 173 more units this year and still has another 301 to sell.
Making much of the fact that a civic election is just around the corner, Meggs told reporters he believes the city has made major efforts to get itself out of a $1-billion hole dug by the previous Non-Partisan Association council.
But, he said, he's skeptical the city will be able to close the gap between what it loaned Millennium Developments before forcing it into courtordered bankruptcy protection, and what it will get for all of the assets.
"There is still a gap, as I see it, between what, conservatively, we expect to receive and what we still have in terms of those construction loans," Meggs said.
He told reporters later that gap could exceed $100 million, and doesn't include the $170-million balance that Millennium owed the city for the land on which the village sits.
A restrained Ballem told council and repeated to reporters later that the city won't know how much it will be unable to recover until all of the units and collateral properties are sold. Last year the city took a $48-million writedown on the project, and that is all she will suggest the city has lost until the next annual financial statements come out in March 2012. She resisted efforts by Meggs and Coun. Suzanne Anton to quantify the losses she thinks the city could eventually see.
Ballem gave a generally positive report on the city's efforts to date, noting that the village is now 74-per-cent occupied, including 100 per cent of all purpose-built market-rental units, 96 per cent of all affordable-housing units and 62 per cent of all market condos. The receiver has also leased 91 per cent of the commercial space in the development, with the two major anchor tenants, London Drugs and Urban Fare, scheduled to open in May 2012.
"I think this is a remarkable effort, a very positive outcome so far," she said.
"I think this is very good news for the city."
The city took over 32 non-village properties worth $82 million from Millennium as part of the courtordered action. Ballem said the city expects to clear about $45 million from those sales.
Anton said Mayor Gregor Robertson should be accountable for the mounting losses in the Nov. 19 civic election.
"We know there is a $48-million loss and Coun. Meggs is talking about another $100 million. Will it be $150 million, $200 million? Why aren't staff saying? You know, Gregor Robertson ran on the Olympic village and he ran on being open and transparent. Where's the openness and transparency? Why aren't we getting the numbers now, before the election?"
Michael Geller, a developer and architect, argues city council has mishandled the Olympic village issue.
"I am astounded that they can say they are encouraged that the shortfall on the loan will only be $100 million. I am very troubled by that," he said. "Nobody should be happy or encouraged at the prospect of losing $270 million, especially when many different real-estate experts advised the city on ways to reduce those losses."
Meggs rejected Geller's criticism.
"I'm happy to defend this council's record on this issue and I think Mayor Robertson was absolutely right, three years ago, to warn taxpayers that we were on the hook for $1 billion, and we were," he said.
Chris Frederickson | Sutton Group West Coast Realty | 604.306.1062 | 
chris@chrisfrederickson.ca